Press Conferences, Meetings with the Media, Round Tables
www.certum.cz
/
Press Conferences, Meetings with the Media, Round Tables
Press conferences and different forms of meeting with the media, such as the round tables, breakfast or lunch or eventually dinner meetings, etc. are organized upon the client's request and always following an evaluation of the situation. We consider whether the required method and form of communication correspond with the interests of the person requiring or ordering the service. It is possible that the situational analysis will point at the possibility to use different methods and forms of communication, such as the press release, interviews, writing an article, organizing a seminar, etc.
We always prepare a communication strategy for our clients and prep them on tactics for meeting with the media. Our press conference service includes providing the client with a detailed timetable of the event, a draft budget and a list of ste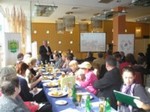 ps that should be taken before and after a press conference.
We do not consider meetings with the media as isolated, one-off measures aimed at communicating something to someone at a given time; we recommend placing this method of communication in the context of the general activities of the company, organization or institution. If necessary, before a meeting with the media we provide media training (using subcontracted media trainers) or simulate situations that may arise at the meeting. An integral part of preparing for the press conference consists in drafting potential and anticipated questions from journalists, ranging from the highly likely to the strictly hypothetical. We monitor this preparation carefully, in order to minimize the risk of unpleasant surprises. Should a question arise to which the answer is unknown, or to which it is premature to respond for any number of reasons, we recommend that the client always promise a reply. The only thing we strongly do not recommend are responses like "No comment."
We regularly organize meetings with the media for the Czech Beer and Malt Association. Among our past and present clients for this service include, e.g., the Research Institute of Brewing and Malting in Prague, Picodas (Garmin) Prague, CZ Laufen, Náchod Brewery, the Czech Association of Small Independent Breweries, ADEX AGRO, Žatecký pivovar s.r.o., Znojemský hrozen et al.